Enhanced Black TN (EBTN)
This display mode offers exceptional dark background because of its very low light leakage. The contrast ratio is up to 1000:1, exceeds that of conventional TN, STN and FSTN. Besides, it offers 3 best viewing directions in one display, in contrast of one direction for conventional display. Furthermore, its wide operating temperature capability extends the range of applications, including automotives.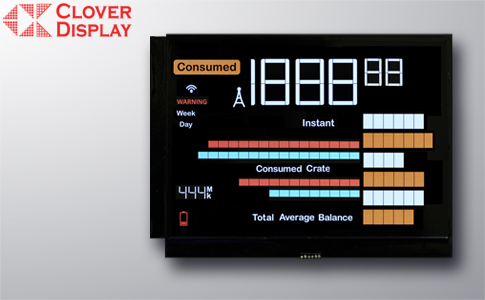 Features:
Very dark background
Super high contrast (> 1000:1)
Wide viewing angle (3-side optimized)
Up/down: -60° / 85°
Left/right: -85° / 85°
Wide operating temperture (-30°C to 80°C)
available in icon, 7-segment & graphic type up to 1/64 duty
Applications:
Automotives, Audio & Video Equipments, Watches, Remote Control, Multimeters, Water Heater, Home Appliance and etc.
Field Sequential Color (FSC) LCD
The backlight produces the fundamental colors R-G-B sequentially, the sequence is looped. A fast response LCD which is placed in front of the backlight is switched and acts as a light shutter that is controlling the brightness of each fundamental color.

The above process is run fast enough so that the R, G, B colors are "mixed" to give multi colors.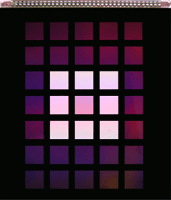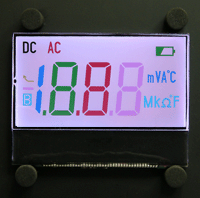 Color TN LCD
Color segments in positive mode display
White backlighting is required
Color TN LCD is different from conventional color printed TN negative display. It can show colored segments in white background with backlighting as a positive mode display. The LCD is transflective and the user can put color printing behind the LCD to give desired color performance. The additional feature is that its readability can be maintained when the backlight is off, but in grey or black patterns.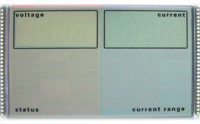 Color Printing LCD
External color printing technique
Black mask can be coated to enhance contrast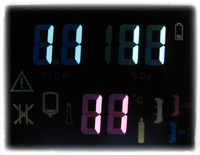 High contrast negative LCD
Advance technique to enhance the contrast of negative display

Fast Response LCD Module at Low Temperature Operation
The response time of LCD at low temperature, say -40°C, could be more than 1 minute. This could be a big problem in display application.

With special technique, the response time of our LCD module at low temperature can be as fast as at room temperature.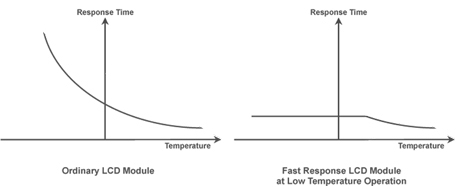 Film LCD
Film LCD is an ultra thin display (thickness is less than 1mm). A transparent plastic sheet is used as substrate that makes the film LCD be thinner and lighter than the conventional LCD glass panels. Film LCD features a substrate of flexible plastic which allow the display to be bent. The applications of handheld products such as watch , smart card or curve surface products can take the advantages of thin, light and flexibility of film LCD. In this stage, Clover focuses on small panel size(1"~4") and TN mode only.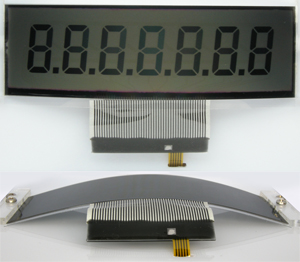 Shaped LCD
Cut corner or angle & round shaped
Hole drilling technique at display